According to WQAD 8 News Unity Point Health Trinity will be providing people in need of shelter from the extreme cold temperatures a place to stay.
With Temperatures expecting to drop into the negative 20's for January 29 and 30, it is not recommended to be outside for any expended period of time and is considered dangerously low.
UnityPoint Health Trinity will welcome anyone who needs relief from the cold to it's three Quad Cities campuses, as well as the Muscatine Center for Social Action.
Trinity Bettendorf
         Bettendorf, IA · (563) 742-5000
UnityPoint Health Trinity Rock Island
         Rock Island, IL · (309) 779-5000
Trinity Medical Center
         Moline, IL · (309) 779-5000
On January 28 the four locations will be open from 11 a.m. to 7 p.m. to offer shelter and warmth. From January 29 to January 30 the four locations will be open from 7 a.m. to 7 p.m."
You can check out original local source here:
https://wqad.com/2019/01/27/trinity-hospitals-to-provide-warming-shelters-during-dangerous-cold-snap/
For Local Closing due to extreme weather you can connect here to get the latest updates during this time.
https://wqad.com/weather/closings/
---
UPDATE – Here below is a complete list of local places that will be providing shelter during this time: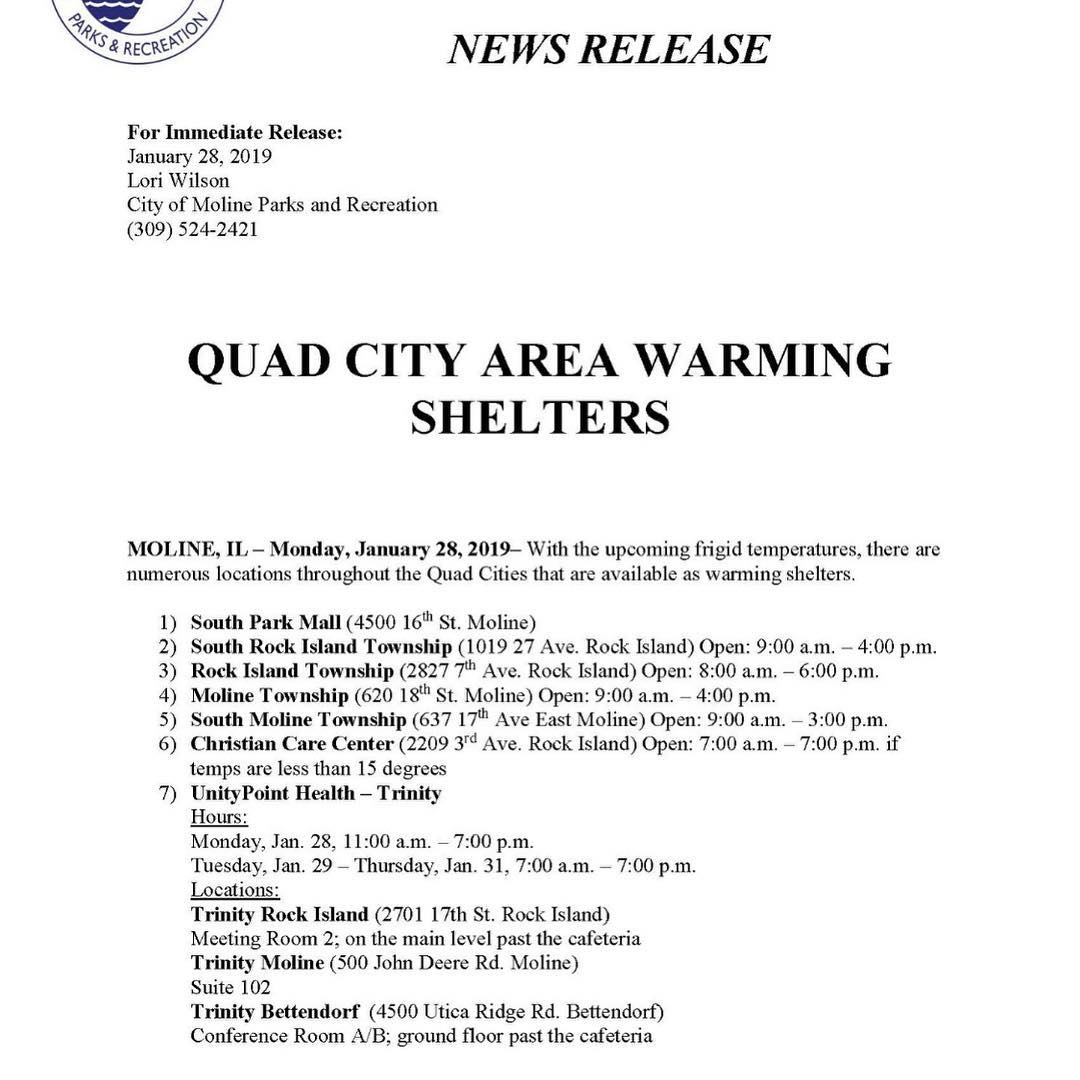 ---
Other Topics you may appreciate due to this dangerously cold weather.
Free Bus Rides in the Quad Cities during extreme freezing weather
---
No Mail for Iowa and western Illinois Due To Extreme Weather
---
For our pets and fur friends here are some great advice in helping keep them safe and warm as well.