Quad City Catfish Guy
On March 28th Peter Robinson made himself a Quad Cities Celebrity! His posts and memes have been shared all the way across the country and around the world. There have been sightings confirmed in Illinois and Iowa obviously, but even in Wisconsin, Nevada, Colorado, Oregon, Califonia, Washington, Georgia and Alaska! Other countries he has reached include England, Wales, and New Zealand!
He even has his own hashtag!
If you haven't heard of the #QCCatfishGuy yet, we have everything you need to know!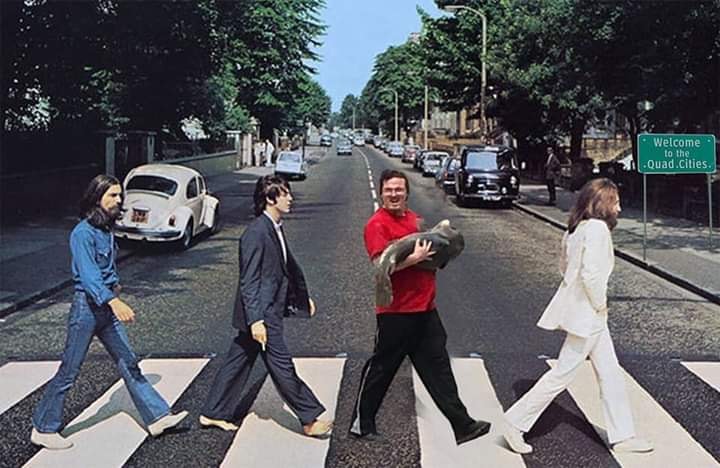 Here are two local news articles explaining the story of how Davenport man, Peter Robinson, went "noodling" in the downtown floodwaters catching what was originally claimed to be a 50 pound catfish! For those who don't know what noodling is, we looked up the official Urban Dictionary definition. Noodling is, "a form of fishing in which a crazy person runs into a lake and searches for holes on the bottom with his foot. Then he inserts his finger into the hole and lets something bite it. Hopefully, it's a catfish. If so, he wrestles the catfish to the surface and drags it to shore." While this isn't exactly how Robinson caught the fish, he DID catch it by hand!
Davenport man travels through downtown with a fresh 50-pound catfish

Davenport "Fish Guy" charged for illegally "noodling" a Mississippi catfish
Due to complaints of a man carrying a large fish around the downtown-area, the DNR was notified. Robinson turned himself in and was fined $93.75 for "illegally noodling" a fish. He was also given 24 hours to obtain a fishing license. For those of you who are unaware of the law, noodling is, in fact, illegal in the state of Iowa. Robinson complied and is now off the hook, so to speak!
Locals found out that Robinson has recently fallen on hard times and currently stays at the shelter. Since the shelter is only available seasonally, he soon will have no place to go! The community suggested he set up a GoFundMe so the community can help him back on his feet. You can find all the information on that, here:
Robinson made a statement on March 30th warning locals not to go near the flood waters:
 !! WARNING !! 

"By Direct Orders of the DNR I am Not to tell people to Fish in the flood waters or Recommend they do so.
So please everyone stay out of the flood waters. It will come back on me and cause me legal trouble.
Thank you All so much.
Be Safe at all times.
~ Yours Truly the Fish man."
You heard the #QCCatfishGuy, stay out of those floodwaters!
The Quad Cities has banded around this man in a big way!
Since his fish-toting escapade throughout downtown, the #QCCatfishGuy has be featured on the Dwyer & Michaels radio show on 97x, he was invited to participate in Cloud 9 Glass 3rd Annual "Clouds in the Community Blockparty" on April 20th, and he will be the QC Celebrity Guest at the Renwick Mansion on April 5th at 8pm for Tomfoolery on Tremont!
Not to mention, Baked Beer & Bread Co. hosted Fish Fry for the Fish Guy April 2-5 where they posted, "Let's support him with a Fish Fry – Baked style! Join us this week as we feature Catfish Fish & Chips & donate the proceeds back to the Fish Guy!" Baked has successfully paid off Robinson's fine and assisted him in obtaining a fishing license!
You can also see him here being interviewed by Living Local.
FUN FACT:
Minutes after leaving the Dwyer & Michaels show, #QCCatfishGuy saved a semi from hitting the "truck eating" bridge and helped it back out safely. What an eventful week for the fish guy!
To add to the generous out-pours from the community, Frank Hoffmaster of 3-D Skin Lab offered Robinson a FREE tattoo!!
What do we think the tattoo is?
That's right. It's a tattoo of himself riding his monster catfish. We're here for it.
Super cool of Hoffmaster to do this for free for our #QCCatfishGuy!
We love seeing our Quad Citizens support each other.
Way to go Quad Cities!
---
It looks like everyone is have a blast creating memes of #QCCatfishGuy! If you would like to create your own memes, use this image! You can save it as a PNG and the background is transparent!
Happy Meme-ing!!