Oakie's Designs

For more information:
Facebook  |  Instagram  |  Website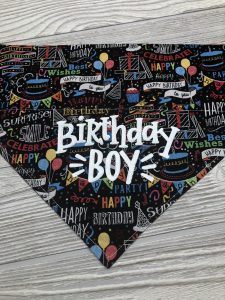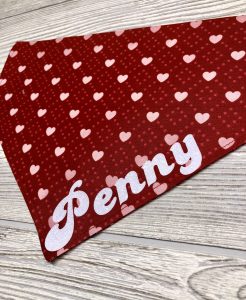 ---
Oakie's Designs is locally owned and operated by QC native, Sydney Masengarb.
We had an awesome opportunity to get to know her and learn about her business!
---
My name is Sydney Masengarb, I work a full-time job, own my own business, Oakie's Designs, and I'm a full-time online student. I have lived in the Quad Cities for 21 years (my whole life). My pride and joy is my dog Oakie who loves everyone he comes in contact with, although his bark can be a bit intimidating.  My business has grown beyond my wildest dreams in the short 8 months we have been open. We've manage to keep 5 star reviews on all social media platforms with over 100+ reviews. We have sold to 46 different states and 4 different countries (US, Canada, England, and Ireland). My boyfriend, Nick, and I enjoy spending time with Oakie and I'm forever grateful for the patience Nick has had while I've started my business from scratch.

-Sydney
---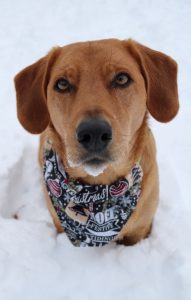 ---
How did you get started creating pet bandanas?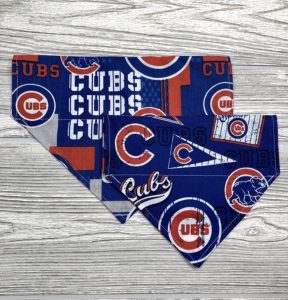 I have a large and intimidating Rottweiler. Due to his size and breed, many people are scared of him. I made a few bandanas just for him to make him look a little more "cutesy" and friendly so people wouldn't shy away from him as often. I didn't really ever think that I'd be able to start a business with this.
When did you know you wanted to create a business out of this?
I was quickly messaged by friends, family, and strangers asking if my bandanas were for sale or if I would be selling them any time soon. At that time, I had no intentions on selling. That same weekend we took Oakie to our local pet shop where the photographer (Lisa) had nothing but compliments on my bandana and encouraged me to sell them. I don't think I would've ever started if it wasn't for that encouragement.
What makes your small business unique?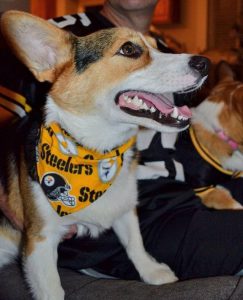 Our bandanas are not like traditional bandanas, they do not tie around your pet's neck. Instead, your pet's collar slips through the loop at the top of the bandana. This eliminates the fear of making your dog uncomfortable by accidentally tying a bandana to lose or to tight and as long as your pet's collar stays on so does the bandana! (And they're reversible!!) From experience and reviews, they aren't destroyed or torn off as often, some of the most destructive pets I know LOVE their bandanas.
What is your favorite part about it?   
I love getting to know my customers and the interactions I get to have with them. I have a community of Instagram pups (and kitties) that I interact with on a daily basis and I have tons of pictures of dogs and cats on my phone and being sent to me.


If the Quad Cities needed to know one thing about your small business, what would it be?
We want to know you! Tell me about your dog, send me pictures of it laying like a goofball. If you order from us, leave a comment on our page, post a picture to our page, tag us on Instagram (OakiesDesigns) my favorite thing to see is a happy customer!
Why did you choose to pursue running your own business as opposed to working for someone else?
I couldn't find something unique or cute [for Oakie] and I didn't like the idea of tying something around Oakie's neck. I started because I was able to make things I couldn't find in stores. Running my own business has given me the opportunity to work on my own time and really lets my creativity flow.
What is your favorite part about being located in the Quad Cities?
I love the Quad Cities because there's so much to do and there really are a lot of dog lovers in our area. I love how small the community acts even with how large we really are. We've gone places with Oakie and have been asked "Wait, this is THE Oakie, like from Oakie's Designs" The love and support we get from the community is beyond amazing.
How long has your business been running?
Officially we opened in November of 2017, but I didn't sit down and actually decide to make this a business until May of 2018.
Is there anything you would like to see more of in the QC?
I'd like to see more craft/vendor shows. Unfortunately, there aren't always a ton of opportunities for small business to showcase their items, especially If they do not sell online.
Is there anything else you would like to add?
Support local businesses! Come to all vendor shows, farmers markets, and craft fairs. Our Facebook page has events added frequently so you can keep up with where we will be. If you can't make it, help share the flyer or the event on Facebook, engage with Facebook pages. The more you like, comment, and share posts the more exposure a small business gets. Unfortunately, social media doesn't make it easy on small business to gain exposure so please help anyone you can!
YES, GREAT ANSWER SYDNEY! We definitely agree with you on the importance of buying from and supporting our local small businesses!!
---
Thank you so much, Sydney, for giving us the opportunity to get to know you and your business a little better! We wish you the best of luck in the future and can't wait to see you and your business continue to flourish!
---
We encourage everyone to help support our local businesses by simply choosing to follow them on social media and engage with their posts; like them, love them, and share them with your friends and family!
You have no idea, as a business owner, what this does to boost visibility of the business and the morale of the owners as well! So go and show some love! We appreciate the fact that you take the time to do so!
If you have a business in mind that you would like us to feature, please feel free to fill out our online form found here!